Car Insurance for Teens
What should you know about car insurance for teens and young drivers? It will be higher than you are accustomed to seeing every policy period. However, there are a couple of options on how you can help your new teen drivers get where they need to go.
Some insurance companies give discounts to teen drivers for things like good grades and membership in organizations like Students Against Drunk Driving. Other insurance companies are offering premium discounts for installing a GPS system that lets you track where your teen drives. While the cost of installation is high, the resulting savings over time can zero that out. When shopping for car insurance for a teenager, be sure to ask about all available discounts.
If you want to apply for car insurance for your teens, please use our free quote service to compare multiple quotes before you make a final decision.
3 Ways to Buy Car Insurance for Teens
1. Adding a Teen to Your Auto Policy
The benefit of having your teenage driver on your policy is that all your discounts will be applied to the new driver. These may include discounts such as homeowner, being married, and multi-car. Although you will see a premium increase, you may see overall cost savings to your family. In addition, your child will be able to drive other vehicles on the policy with insurance protection.
2. Getting Your Young Driver a Separate Policy
Another option may be to purchase a separate policy for your teen driver. The benefit is that your car insurance premiums will remain the same as long as your teen is excluded from driving the vehicles on your policy. The downside of this method is that your teen will be limited to the use of the vehicle listed on his/her own policy. It is important to weigh these costs and benefits when deciding the best insurance plan for your teen.
3. Away at College Auto Insurance Coverage
What happens when your teen decides to move away for college? It depends. If your teen will not take a vehicle and he/she is currently on your plan, then you may be able to get a discount. Since the driver will be away at school, it will equate to cheaper car insurance premiums. In the case where a car is taken to school out-of-state, then it is definitely a wise choice to consult with your insurance agent. There may be an additional cost that must be paid and it may be a good idea to shop around.
How To Save Money On Teen Car Insurance?
Covering your assets doesn't mean you need to cash out the kid's college fund. Plan ahead for the inevitable and you may be able to realize some teen auto insurance savings.
Many insurance companies offer discounts on teen car policies to kids who complete a driver's education program. To obtain the best discount available, check with your insurance company about the programs they recommend.
Showing proof that your child has maintained a good grade point average (usually 3.0 or higher) may also qualify for a teen driver discount, which can be worth 20% or more off the premium.
Putting your teen on your car insurance policy as an additional driver rather than buying a separate policy should assure that all your discounts apply to your child as well.
If your teen gets a moving violation and the judge permits it, have him go to traffic school instead of paying the fine.
Always make sure the car is in good operating condition with enough gas to get where you're going. Teach your child how to check and top-off basic fluid levels and how to check tires for proper pressure. It's not a bad idea to show your child how to change a flat tire and use jumper cables to charge a battery.
Equip your teen's car with an emergency kit that includes a gas card for emergency fuel, a can of tire inflator and sealer, jumper cables or, even better, a charger that works from inside the car that will also power up a dead cell phone, bottled water, energy bars and a couple of blankets.
Explain to your teen the need to reduce speed and increase braking distance when road conditions are poor and visibility is reduced. If the weather is really bad, your child should find a safe place to wait it out, preferably by pulling off the road and into a well lit, populated place.
Teach your teen driver how to gently and evenly apply the brakes on wet or icy roads to avoid hydroplaning or skidding. If at all possible, let your teen driver practice controlled skidding on wet pavement in a large, empty parking lot.
Ask about away-from-home discounts for older teens who are attending college at least 100 miles from home.
If you're buying your teen his or her own car, consider an older vehicle, which may have lower premiums than a brand new car. Just be sure to select one that has the latest safety features (air bags, ABS brakes, 3-point restraint systems, etc.), because those also qualify for discounts. So do anti-theft devices.
Consider participating in a voluntary Usage-Based Insurance program with telematics system that tracks mileage and driver behaviors such as speeding, hard braking, unsafe cornering, etc. Those can net discounts as high as 30 percent.
How to Choose Safest Cars for Teen Drivers?
The Insurance Institute for Highway Safety (IIHS) and the Insurance Information Institute (I.I.I.) say there is something worried parents can do to protect their teens — choose a safe vehicle. Check it out below:
The ideal teen vehicle will do well on all four crash test criteria: front-end and rear-end collisions; side impact; and roll-over. If you're buying used, look for models that have both front and side airbags, and anti-lock brakes.
Keep the horsepower under control. A four-cylinder model will not only discourage speeding and reckless driving, it may also result in cheaper car insurance for your teen driver. Besides, putting too much power in the hands of an inexperienced teen driver is not a good idea, even if the car is rated highly in crash tests.
Cool as a manual transmission can be, it's probably not the safest choice for a inexperienced driver. Opt for an automatic transmission that won't challenge a young driver's skills under pressure.
If you want to know more regarding vehicles for teens, please check out IIHS website.
Ready to purchase teen car insurance policies? Compare multiple quotes from top insurance companies first.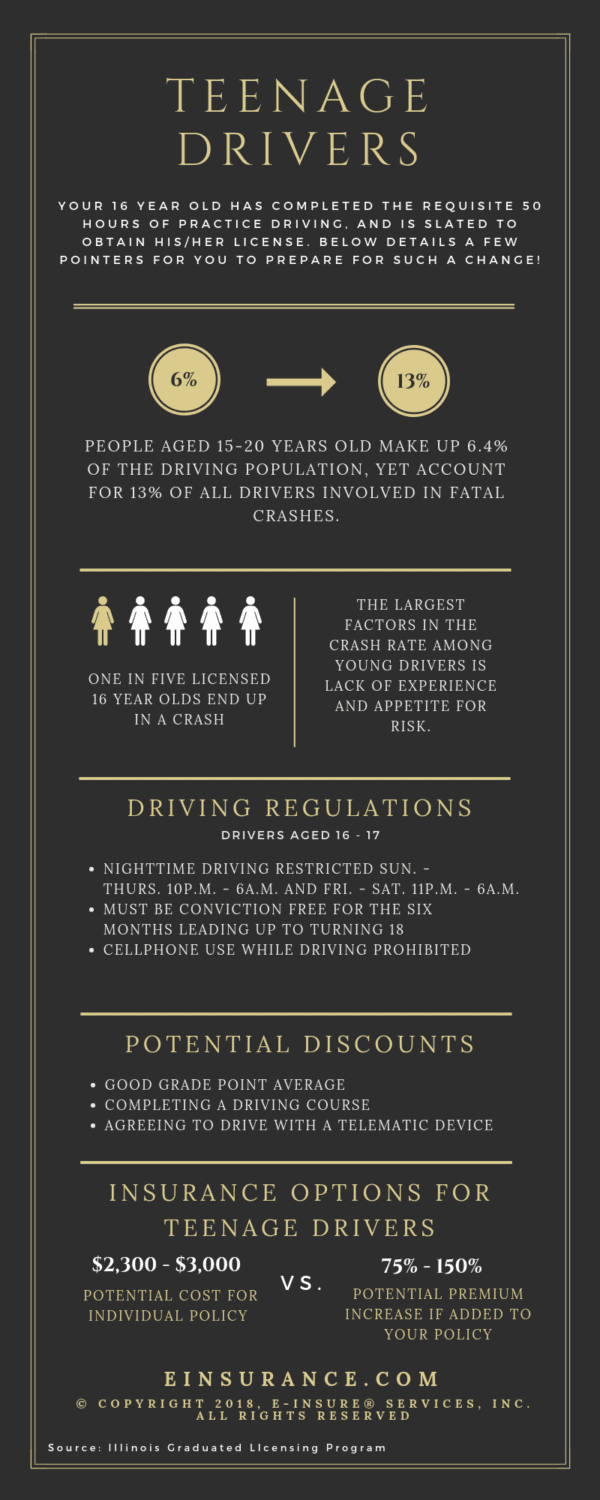 Find your State-specific Car Insurance Guidelines